ECU booster
EcuBooster is a universal editor for ECU tuning. Powerful and convenient tool for editing ECU maps and parameters.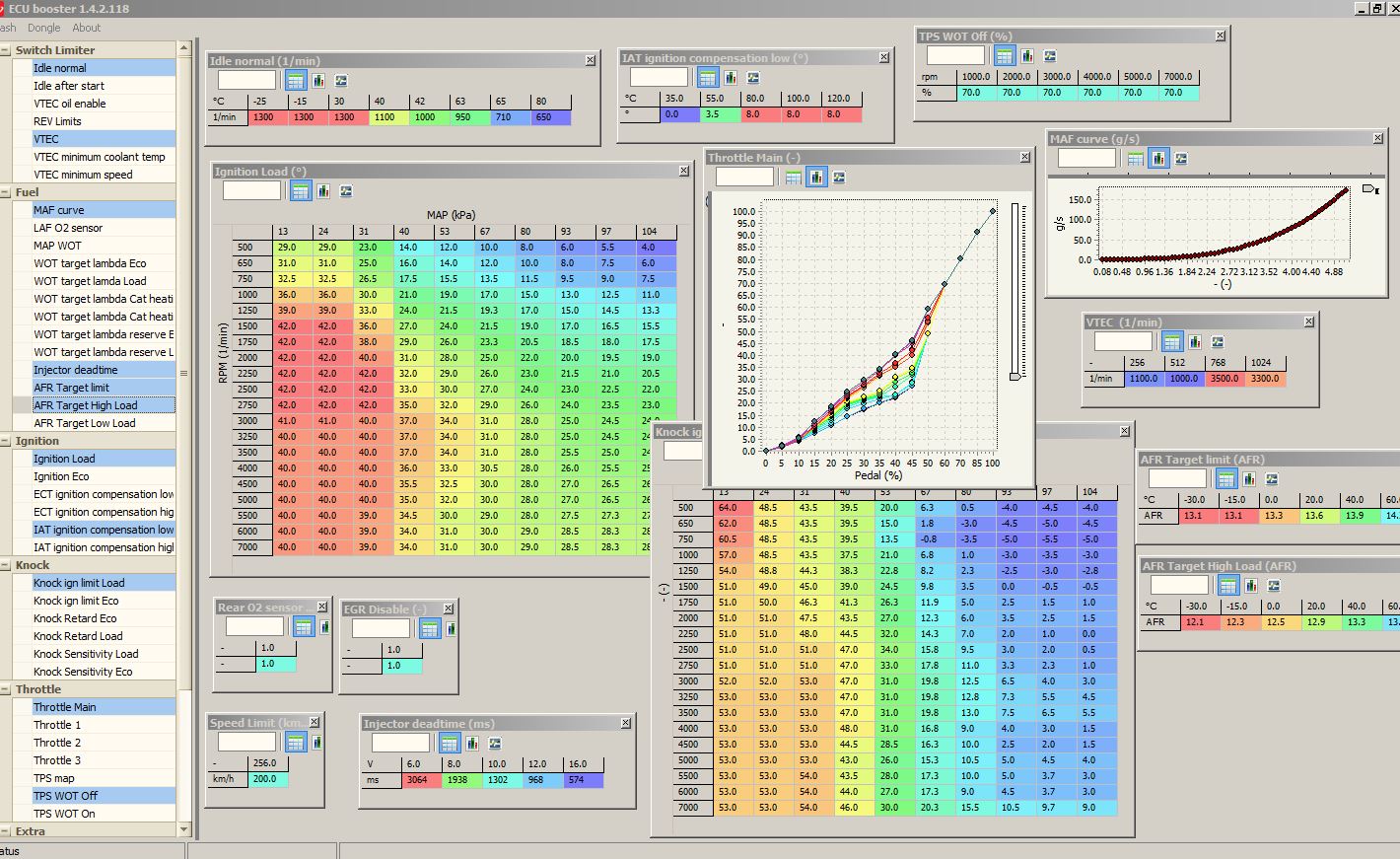 Auto-detecting type of bin-file. EcuBooster editor automatically detects the type of ECU, when you open a bin file. And loads all editable maps and options. 
Activation of licenses directly in the application. You open a bin file, the system recognizes the type of ECU and gives the full bin-file metric.
As well as options for available licenses. You click - Activate and you can immediately start working.
Convenient and fast.
Credit system. Each user has an account in the EcuBooster system. You can buy loans and put them on the account for reserve. When you need a license to work with any ECU, you simply activate the license directly in the application. And the cost of the license is deducted from your account. Thus, you get instant access to any licenses, at any time.
Customization working area of ​​the program. The project file remembers the type, location and size of windows, all maps. Switching the map view - table / chart / chart + table.
Version system. When you open a bin file, a new project is created. The project always retains the original stock file. At the root of the version tree. Therefore, you have access to the stock file whenever you want. Any change will create a new version (tun). You can create versions of your tun at any time and in any quantities. From any tun, you can export to bin for ECU flash.
Automatic software update. You do not need to follow the updates, you always have the most current software versions. Just turn on the internet. We are constantly working to improve our product.
Demo license. On different types of ECU, for the EcuBooster editor. Full functionality without the ability to export bin - file for ECU flash. Try it now, it's free! Download.
We add licenses upon user request. For ECU types that are not in our database. You send us a bin file. Within 24 hours, we add a license to your ECU (if available). It's free.
Full user support. We answer your questions - online chat, forum, social networks and messengers - list. Any that is convenient for you.
We are blogging. Where we share the secrets of tuning different cars on the example of the use of the EcuBooster editor. Subscribe to the news, it will be interesting! We also conduct publics in social networks - the list here.
Only original! We sell equipment only original manufacturers.
How does the EcuBooster editor work?
To work with ECU maps, the system uses the file definition. This is a set of map descriptions and parameters, structured for easy viewing and editing. Each definition includes a set of basic maps used for tuning. Ignition, fuel injection, phase shifters, torque model, detonation control maps, choke, cut-off, VTEC operation points, limiters, idling, selective shutdown of DTC errors and systems like EGR, VCM, DPF, etc. <br /> One definition is one type of ECU.
Getting started with the program.
To work with the EcuBooster editor, you need to purchase a hardware USB dongle (dongle). Dongle contains a unique ID. The account is tied to the user ID. Replenishing the account, the user gets the opportunity to activate the license.
Licenses.
Single license allows you to work with a bin file of the same ECU type. A single license will be convenient for enthusiasts who tune their personal car. This license is the most affordable.
Pack license a family of single licenses. Pack license will be useful to professionals, as it allows you to access one or several ECU types at once. In sum, it is cheaper than a lot of single licenses.
Licenses for Honda are here. 
Licenses for Nissan are here.
Licenses for Toyota are here.
Licenses for Infiniti are here.
Licenses for Acura are here.
If the license for your ECU is not in our database, but it is possible to add it. Send us a stock bin file, we will add a license within 24 hours. We are constantly working on updating the license database.
How do I know if my ECU is supported? Very simple. Run the editor, open your bin file stock. The system starts an automatic search. If the definition is found, you will see a metric window with a description of the your ECU bin file. This feature works for free and without a USB key. Just install the editor and use.